Cornwall Council may compulsory purchase derelict homes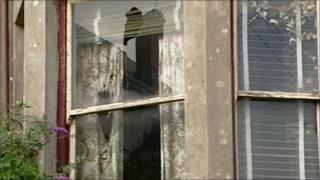 Property owners who have left houses standing empty for years could be forced to sell them to help ease the housing crisis in Cornwall.
It has been estimated there are about 4,000 unoccupied houses across the county.
Cornwall Council said it might consider Compulsory Purchase Orders (CPO) to buy some of the properties.
Owners could also be offered a loan to renovate derelict homes which could then be rented by the council.
Some of the properties have been unoccupied for up to 20 years and are in a poor state of repair.
For owners who cannot afford the renovation costs, the council would give them money to carry out the repairs to make the property habitable.
The loan would then be repaid by the owner allowing the council to rent the property for a fixed period.
"We would ask for nomination rights on the property so someone with a housing need could live in the property for a period of up to five years," Joe Roberts from Cornwall Council told BBC News.
The council said the aim was to "persuade" owners to hand over the properties, but ultimately they could be forced to with a CPO.
'No comforts'
Joe Emery, who is on the council house waiting list, has welcomed the move.
He said after living in a caravan near St Austell with his family for the past three years, the thought of another winter is daunting.
"It's difficult because it's cold all the time and we get ill quite a lot with colds and sniffles," he said.
"The caravan hasn't got the room or the comforts and we can't do the things other families can do."