Call to rethink 'zoo' decision for tortoise sanctuary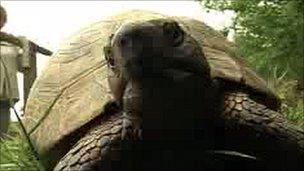 An MP has called for a rethink after a tortoise sanctuary was reclassified as a zoo, leading to its closure.
The Tortoise Garden at Sticker, near St Austell, closed to the public when Cornwall Council said tortoises were "wild" animals, not domestic pets.
Owner Joy Bloor said she could not afford the cost of the licence and to pay for official vet inspections.
St Austell MP Stephen Gilbert has written to the council asking it to reverse the decision.
He said he had received a letter from Lord Henley, at the Department for Environment, Food and Rural Affairs (Defra), which "categorically" stated the council had the power to leave the sanctuary open.
Mrs Bloor set up the sanctuary about 11 years ago and most of the 400 animals were unwanted, abandoned, injured or illegally imported and brought to her by animal welfare organisations or members of the public.
They include a number of rare and endangered varieties. Despite its closure to the public, Mrs Bloor has continued to care for the tortoises.
"It's time this game of pass the parcel ended," Mr Gilbert said.
"Lord Henley's letter has confirmed that Cornwall Council have the power to rule that the Tortoise Garden isn't classed as a zoo, and should not be forced into incurring the extra costs of a zoo licence."
The MP said he had now written to Councillor Lance Kennedy, cabinet member for environmental health, asking that in view of Lord Henley's letter he "ends this farce" by reviewing his decision and allowing the sanctuary to reopen.
Mr Kennedy is currently out of the county, but Cornwall's last position was that it had no choice but to apply the Zoo Act.
In September he said council officers had worked tirelessly and "gone beyond what might be reasonably expected from a local authority" to find a solution.
It had sought expert advice and while two or three breeds of tortoise were widely domesticated during the late 1960s, the remainder were classified as exotics.
Under the Zoo Licensing Act, a zoo is defined as an establishment where wild animals (animals not normally domesticated in Great Britain) are kept for exhibition to the public with or without charge for seven or more days a year.
Mr Kennedy said, despite its good work, the Tortoise Garden clearly fell within that definition.
Chris Newman, from the Federation of British Herpetologists, said while the legislation was complicated, the council could have chosen to adopt "the common sense option" to keep such an important facility open.
Mrs Bloor said: "I want to thank Stephen Gilbert for his efforts on our behalf and we hope Cornwall Council reconsiders its decision and does the right thing."
Related Internet Links
The BBC is not responsible for the content of external sites.