Cornwall Council boss cuts 5% off his £200,000 salary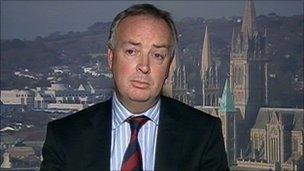 The boss of Cornwall Council has given himself a 5% pay cut.
Chief Executive Kevin Lavery said it was in recognition of the difficult financial situation facing Cornwall.
From 1 January 2011 Mr Lavery's £200,000 salary will be reduced to £190,000. His travel expenses will also be cut from 40p to 25p a mile.
Announcing his personal decision to also give up his annual rise and cost of living allowance, Mr Lavery said it was "vital to lead from the front".
In a statement, the 49-year-old chief executive said he wanted to make a "clear statement" that everyone in Cornwall should be prepared to work together to protect services.
"I said when I accepted the job as chief executive of the council two years ago that my decision was not motivated by money - in fact I took a massive cut in my salary package when I moved to Cornwall," he said.
"The reason for taking on the role was because I believed passionately that I could make a difference and I still feel that passion for the job today.
Mr Lavery said the decision not to take his full salary was a personal one, but with the pay bill one of the largest areas of the council's budget, the pay and conditions of all staff was being looked at as part of the savings strategy.
The management structure has been "significantly" reduced over the past 18 months since the unitary authority was formed by replacing seven former county council and district chief executives with one chief executive and reducing the number of directors from 33 to five.
"This has already saved more than £2 million a year, but we need to do even more to reduce our pay bill if we are to avoid being forced to make ever deeper cuts in services," he added.
Cornwall Council said its chief executive's salary should not be compared with that of the prime minister as they were "totally different" roles.
It said a more accurate comparison would be with the salary paid to senior civil servants, the chief executive of the Royal Mail or the director general of the BBC who are not only paid more, but "also enjoy much more generous pension benefits".
Communities and Local Government Secretary Eric Pickles has previously criticised "bloated salaries" which he said had become commonplace in some local authorities.
He said few council employees should expect to earn more than £100,000 a year in future and suggestion chief executives on £200,000 or more should take a 10% cut in salary.
Earlier this week Cornwall Council said there would be £10m cuts to front-line services as part of its £110m budget cuts over the next four years.
Mr Lavery described it as a "challenging time for the council".
Related Internet Links
The BBC is not responsible for the content of external sites.