Falmouth student anti social behaviour hotline launched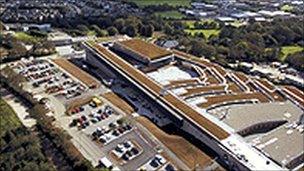 A hotline has been set up in Cornwall for residents in Falmouth and Penryn to report incidents of anti social behaviour caused by students.
The Community Issues hotline, run by University College Falmouth (UCF) will operate for two hours a day between 0930 and 1130 BST.
Residents say that students create noise and nuisance in the two towns.
UCF said the hotline would be regularly reviewed, and the student union, FXU, was trying to improve the situation.
Falmouth Town Councillor Diana Merrit said: "There's loud music, the windows are wide open, there's screaming and there's shouting."
"The fact of the matter is, we get this everyday, we don't have it when they're not here.
"We just want the university to take on board that they are bringing these people here for an education and they're doing nothing to help the residents."
Campus Services Director at Tremough Campus, Lucy Black, said: "We've always been very responsive to members of the public and local community who have made contact with us.
"The campuses in Cornwall have grown considerably over the last couple of years, so we're keen to make it a more effective response to people contacting us."
The student union said that it had launched a number of initiatives.
FXU President Andy Edmundson said: "We've just relaunched the Shush campaign which is 'silent students happy homes'.
"And we we hand out lollipops to try and keep them quiet after they leave clubs and when they walk through town."
The Community Issues hotline number is 01326 255666.
Related Internet Links
The BBC is not responsible for the content of external sites.