Cornish bees killed in suspected tractor attack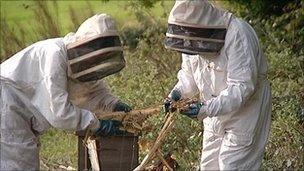 A Cornish beekeeper has lost about 200,000 bees after his hives were flattened by a stolen tractor.
David Barriball, from Liskeard, said nine hives, worth an estimated £3,500, had been lost and it would take 18 months to build the colony up again.
Mr Barriball has offered a year's supply of honey to anyone with information which leads to a conviction of those responsible.
Devon and Cornwall Police said they were investigating the incident.
The attack happened at Trerulefoot at about 0200 BST on Tuesday.
Mr Barriball said it was believed the tractor was stolen from a nearby farmyard and then returned afterwards.
"They deliberately drove down over the hives and then turned round and did it again," he said.
"The bees suffered. They were disorientated, they were trying to hang on to life.
"I don't think many will survive such a demolition and being exposed on such a cold night."
He said he had tried to retrieve as many bees as he could and rehome them in temporary hives.
Mr Barriball's daughter, Sarah Kitson, said: "I was absolutely mortified, not just because they destroyed the hives but because of all the problems keeping bees alive at the moment, it's devastating."
Mr Barriball, who keeps bees at a number of sites around east Cornwall, said he was offering a reward of a year's supply of honey to anyone with information leading to a conviction.
Related Internet Links
The BBC is not responsible for the content of external sites.