Cornwall Council defends temp's £1,000 daily pay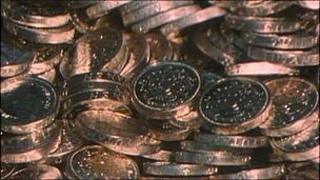 Cornwall Council has defended its decision to pay a temporary employee £1,000 a day.
The hourly rate being paid to its interim head of customer services works out at £125 - about 21 times the minimum wage.
The council said the woman, who was covering two roles, had been leading a cost-cutting drive which would save £10.6m over the next four years.
It added that a permanent head would be appointed soon.
The salary was disclosed to a West Briton local newspaper reporter under a Freedom of Information Request.
Defending its decision, the council said it had substantially reduced the number of interim appointments over recent months and would continue to do so.
A statement said: "A small number of interim staff have been employed where there has been a specific need for a temporary appointment or to obtain specialist knowledge and skills.
"In the case of the interim head of customer services, the individual actually carried out two roles - covering the vacant head of service role and leading the integration of the front-facing part of shared services, a key part of reducing costs next year."
'No severance'
It pointed out that interim appointees were not paid for weekends or holidays and could not claim severance payments when their period of employment was finished.
The council said it was reducing the number of senior roles by bringing together three posts - revenues and benefits, customer services and shared services into one single role of head of customer operations.
This approach enabled the council to save on both recruitment and redundancy costs, it added.
The temporary employee is due to leave the council at the beginning of November.