Warship HMS Cornwall prepares for gulf pirate patrols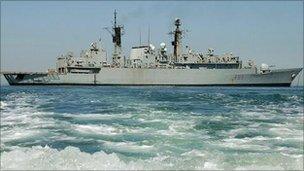 A Royal Navy warship is deploying on counter-piracy operations in the Gulf of Aden.
HMS Cornwall has spent several months training at Devonport preparing the crew to handle "any scenario".
The warship is part of the Combined Maritime Force to deter piracy and support international shipping through the area.
The frigate was deployed off Somalia for eight months last year.
Commanding Officer, Cdr David Wilkinson, said: "My sailors, officers and I are looking forward to returning to the area and continuing our success of last year.
"However, our first thoughts will be for the loved ones we leave behind - they are our strength and have been a great support to us - we shall miss them."
HMS Cornwall will leave Plymouth on Friday for its six-month deployment.
Related Internet Links
The BBC is not responsible for the content of external sites.