Cornish flooding victims could have council tax delayed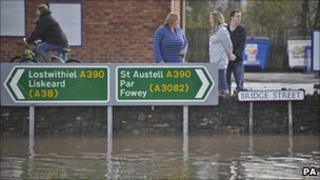 Flood-hit households and businesses in south-east Cornwall could have their council tax delayed.
About 230 people and 400 business were affected by severe flooding last week, with some people being trapped in water up to 6ft (2m) deep.
Rob Andrew, from Cornwall Council's localism team, said the authority wanted to help people affected get back on their feet after the devastation.
Some business have raised concerns about lost trade ahead of Christmas.
St Blazey, St Austell, Mevagissey and Lostwithiel were the worst hit in the flooding last week.
Bookings cancelled
Although clean-up operations are under way, many businesses said they had lost stock and could end up struggling because of lost trade in the weeks leading up to Christmas.
Denis Pitt, who owns a chinaware stall in Cornish Market World in St Austell, said he lost crockery worth thousands of pounds.
He said: "All that was on the floor has just been scrubbed out. The majority of it has gone into the dustbins."
Some business say they are also looking at very long clean-up operations.
The Kidzworld children's activities centre in St Austell is not to open until January because the foam in activity areas absorbed floodwater and has to be replaced.
Claire Hancock from the centre said they started cancelling bookings immediately.
She said: "Between it happening on Wednesday and when we hope to reopen at the end of the year, between 60 and 80 parties have been cancelled.
"There are a lot of very disappointed families."
Cornwall Council has been working with local communities during the clear-up operations, including providing skips, extra refuse lorries and community information.
No council tax waiver or length of waiver period has been decided yet.
Mr Andrew said: "We're certainly looking at all of these aspects.
"We've got a business link team looking at the business aspects. We're also talking to our revenues and benefits people about what help we can offer there."
Public meetings are being held for flood victims in St Blazey, Lostwithiel, Mevagissey and Pentewan over the next four days.
The council's localism team helps manage the unitary authority's agenda to ensure small communities influence decision-making and to ensure that public services reflect communities' local circumstances.