Haldon Hill severe weather plan in force as snow falls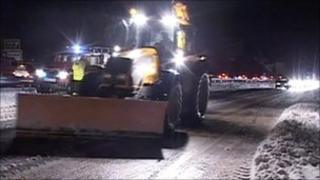 A severe weather response plan has been put in place on one of Devon's main trunk routes.
Snow fell on Friday evening and the Met Office predicted 5cm (2in) could settle, with up to 8cm (3in) on higher ground. Temperatures will drop to -1C.
Spotters have been deployed to Haldon Hill on the A38 and Telegraph Hill on the A380.
Devon County Council said it hoped the plan would prevent the chaos caused by snow last year and early this year.
In February 2009 and January this year, thousands of motorists were stranded for hours in freezing conditions on the two hills near Exeter.
Lester Willmington, head of highways, told BBC News: "We're as confident as we can be - but what we can't predict is the unexpected."
A forward control point has been set up at Kennford to closely monitor weather and road conditions.
Council gritters were sent out at about 1330 GMT, along with the Highways Agency's fleet of gritters.
When the county's main routes have been treated, allocated gritters will be re-loaded, fitted with snow ploughs and stationed on Telegraph Hill and Haldon Hill.
Motorists have been urged to drive with extreme caution.
Malcolm Roberts, from the Highways Agency, said everything possible was being done to prepare for the severe weather.
"But we would remind drivers they also need to check the latest weather and traffic reports before setting out on any journeys and decide if their journey is absolutely necessary if conditions worsen," he added.
Schools across the county have also been alerted to the possibility of snow next week.
Council spokesman Stuart Hughes said the weather could cause some disruption across the county over the next few days.
"This is the first real threat of snow that we have had this winter and we are as prepared as we can be," he said.
"Salt barns are full to the brim with 25,000 tonnes of salt and we are as committed as ever to keep Devon moving.
"I'm sure we have all learnt lessons from the last two harsh winters and I trust that people across Devon are prepared for bad weather and take adequate precautions."
The Met Office said showers overnight could turn to sleet and snow in places, some heavy.
Showers were due to clear during the early hours of Saturday, it said. But, after these, widespread icy roads were expected on untreated surfaces.
The council has winter travel advice on its website.