Snow closes schools and minor roads in Cornwall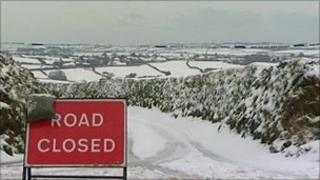 Drivers in Cornwall have been facing treacherous conditions on roads after temperatures dropped to -7C (19F).
Main roads are open, but many minor roads are still covered in ice or snow because of the overnight conditions.
More than 80 schools were closed or opened late after public and school buses were cancelled.
Meetings have been postponed, including a Cornwall Council emergency budget debate. Waste collections have also been affected, the council said.
Schools' 'difficult call'
Cornwall Council, which has produced a list of affected schools, said that more than 80 schools were closed or opening late on Tuesday.
David Wood, from the council's Children's Services Department, said head teachers had a "very difficult call" in deciding whether schools should open.
"They always try to keep schools open and children in classrooms where possible, but there are very, very strong safety considerations," he said.
"There were horrendous conditions yesterday, with very icy approach roads which were dangerous for pedestrians.
"And, of course in some instances, it's quite difficult to get the staff into school."
Council gritter lorries were out at 0400 GMT, but there were no reports on the BBC travel website of any major roads closed.
However, sheet ice has been reported on Blackwater Hill, near Truro, resulting in a number of cars and buses being left stranded.
First Bus services have been disrupted across Devon and Cornwall, with a number of cancellations.
Truro's Park and Ride service, which was closed for much of Monday, has reopened.
Staff from Cornwall Council's Highways service said they were carrying out a precautionary salting of roads west of Newquay and Mevagissey from 1600 GMT.
Teams were also due to go out again at 0400 GMT on Wednesday to salt routes in north, central and south Cornwall.
The conditions have resulted in changes to some waste and recycling collections after snow and ice meant some roads and pavements were inaccessible for collection vehicles.
The council said it was continually reviewing the situation and was trying to collect as much waste and recycling as possible when it could be done safely.
The lowest recorded temperature overnight was -7.2C at Netherbridge on the Devon and Cornwall boundary.
Met Office forecasters are predicting more snow showers on Tuesday in the South West.
A full council meeting of Cornwall Council due to be held later to discuss an emergency budget to cut £170m over four years has been postponed until Friday in the interests of safety.
Jeremy Edwards, at county highways, said: "There has been a severe frost with temperatures down to -7C so the untreated minor roads and footpaths will be difficult.
"Those are the areas we are focusing on.
"People should exercise caution anywhere that's not been treated.
"We are doing what we can to keep Cornwall moving."