Customers' vow over Crown Currency Exchange collapse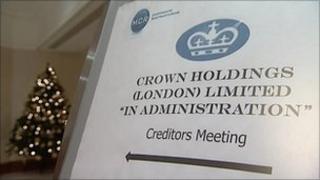 People who lost money when the Cornwall-based Crown Currency Exchange (CCE) collapsed have vowed they are not going to "go away".
The firm went into administration in October owing customers more than £16m.
Earlier, creditors held their first meeting in Birmingham, where they were able to question the firm's administrators.
The amounts people are owed range from £100 to £100,000.
CCE, which was established six years ago, allowed individuals and business customers to pre-order foreign exchange at a set price up to a year in advance.
It provided money in 80 different currencies, as well as travellers' cheques and money transfers, sometimes for people to buy property.
Jo Struyk, from the Crown Currency Exchange Action Group, said: "Even if we don't get a penny back one of the main aims for us is making sure [the firm] never do this to anyone else again."
Her words were echoed by another creditor at the meeting who said: "It was important for us to be here to show that the company is not going to get away with it and we are not going to go away."
Creditors would also like to see the Financial Services Authority change its regulations, so that in future currency transactions like those carried out by CCE would be covered by a compensation scheme.
Joint administrator Harold Sorsky said: "We are now going to be looking through thousands of pieces of paper and thousands of transactions.
"It's going to take time. We want to find out what happened to the money."
Crown Currency Exchange left debts of £20m with only £3m of assets recovered.
Devon & Cornwall Police is currently investigating whether there is any "evidence of criminality".
A creditors' report detailing the collapse of the company revealed that 8,000 people had made claims totalling £16.5m.