Plymouth semiconductor firm cutting up to 70 jobs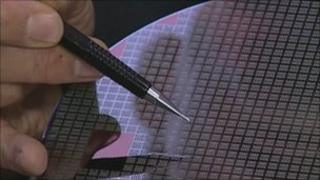 A hi-tech manufacturer based in Plymouth is making up to 70 staff redundant, the BBC has learned.
Plessey Semiconductors, which is headquartered in the Roborough area of the city, employs about 200 staff.
Of those, about 25 are based in Swindon; but the redundancies are to be made across the total workforce. The company is also considering pay cuts.
Plessey - formerly known as X-Fab and prior to that, Zarlink - specialises in silicon wafer research and development.
BBC South West business correspondent Neil Gallacher said the redundancies would hit the city and surrounding area because it was one of the best-paying factories in the region.
He said: "It's a blow for the local economy because the average wage at the factory is around £35,000 a year.
"Their difficulties put them at odds with a number of other local manufacturers who've been experiencing a distinct upturn lately."
He added: "The company's stressing it could be fewer than 70 in the end."