Hair straightener campaign after Cornish baby burnt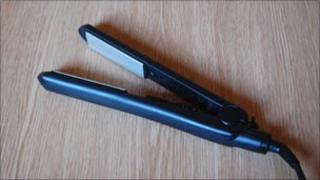 Health staff in Cornwall have seen nearly 20 children burnt by hair straighteners in the past year, including a six-month-old baby.
The Primary Care Trust (PCT) said 17 cases had required hospital treatment in the past year, including the baby who rolled on to a pair.
The trust has started a campaign to try to cut injury numbers.
It said users should ensure that the devices have cooled down properly and are put out of reach.
'Hot as an iron'
Beth Beynon, the children's accident prevention coordinator for NHS Cornwall and Isles of Scilly, said the children involved only suffered minor burns, but parents had to be aware how dangerous straighteners could be.
She said they could be as "hot as an iron, or the average cooking temperature of an oven".
She said: "Most of the injuries are happening after they've been turned off.
"People turn them off and leave them out and they can take up to 40 minutes to cool down.
"Children are either stepping on them or picking them up, not realising that they can be extremely hot."
She said users should turn them off immediately after use at the plug.
They should also put them into a heat-resistant bag straight afterwards and put them where children can't reach them, she added.