Cornwall Council 'to cut 700 jobs'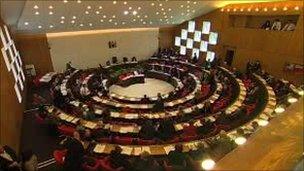 About 700 jobs will be lost at Cornwall Council as it looks to save money, its chief executive says.
Councillors approved a budget on Friday for £170m of savings over four years.
There had been concerns that up to 2,000 posts could go, but Kevin Lavery said the authority was looking at fewer.
But he added some job losses would come through compulsory redundancies. Members of the GMB union have criticised plans for any cuts.
Mr Lavery said cuts were being considered to posts where work was being duplicated.
He said: "Pressure areas are areas like shared services, which is the admin side, finance and processing, neighbourhood services.
"Where we're rolling together all the district and former county council labour forces together, we know there are significant efficiencies and savings to be made there."
The authority, which was formed in April 2009, inherited all the staff and services from the former county council and six district and borough councils.
Ian Gayton, the Cornwall Council branch secretary for the GMB union, which has about 1,000 members at County Hall, said it was not just job losses which concerned staff.
He said: "People are not only facing redundancy. We're in a climate where employment is a bit thin on the ground."
Sixty councillors voted in favour of the budget last week, with 39 against and one abstention.
More than £10m of the savings package will come from frontline services.
The overall savings amount to 10% of the current council budget, which include 29% from leisure services and 23% from library services.
Related Internet Links
The BBC is not responsible for the content of external sites.