Sgt Paul Fox's 'catastrophic' injuries in Afghanistan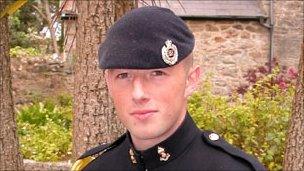 A Cornish soldier died on a battlefield in Afghanistan from catastrophic injuries, an inquest has been told.
Sgt Paul Fox, 34, from St Ives, was on a dawn mission in Helmand Province, when he stepped on an improvised explosive device (IED).
His patrol was checking compounds suspected of being used by insurgents, when it came under fire.
Cornwall Coroner Emma Carlyon said Sgt Fox was "unlawfully killed while on active service".
Following his death on 26 February, Sgt Fox, was mentioned in despatches for bravery.
The Truro inquest heard the foot patrol had been following a route over a canal near a check point in the Nad Ali district.
It was still quite dark and the soldiers were wearing night vision goggles. They had been advised to keep to their right to avoid danger.
More than 50 soldiers had already crossed safely.
When Sgt Fox stepped on the pressure plate of the IED, the blast left a crater 3ft (1m) deep.
Capt Philip Floyd, from the Army's Special Investigation Branch, said the IED was made with 15 to 20kg of explosive.
Despite coming under fire from insurgents, his colleagues tried to resuscitate him, however a post mortem examination found that Sgt Fox received catastrophic blast injuries which were not survivable.
Sgt Fox, from 28 Engineer Regiment, joined the Army in 1994 and was attached to the 11 Light Brigade Reconnaissance Force.
Hundreds of people lined the streets of St Ives in March for the funeral of the Manchester-born soldier who moved to Cornwall with his family when he was 10.
In September, Sgt Fox was mentioned in despatches for bravery during an earlier incident.
The Army said he ran into open ground during an ambush in Babaji to set up a smoke screen to protect colleagues.
The Royal Engineer's citation said he showed "selfless commitment and bravery" in his actions "without any regard for his own personal safety".
After recording her verdict, the coroner passed on her condolences to Sgt Fox's family and thanked the soldiers who gave evidence at the inquest.
The Army said Sgt Fox had been "an impressive soldier and an outstanding man".
Related Internet Links
The BBC is not responsible for the content of external sites.