Call for affordable housing plots in Cornwall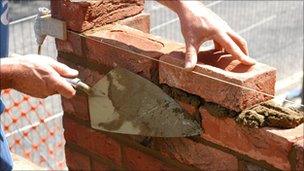 Landowners are being asked to help provide affordable housing in Cornwall.
Cornwall Council said it was asking for a donations of an acre of agricultural land for a pilot scheme on the Lizard and around Helston.
On each acre, about 12 properties would be built. Of those, about 10 would be affordable and the landowner would be able to make money by selling the rest.
Objectors have criticised building on greenfield land. The council is due to make its appeal for land next year.
At Mawnan Smith, near Falmouth, a similar project has been put forward for eight affordable homes and four to be sold at market price.
However, objectors said that they did not approve of building on greenbelt land on the edge of villages.
Clare Lake, who has led protests against the Mawnan Smith project, said there was little point in building homes were work was not locally available.
She said: "There aren't any jobs here that sustain mortgages.
"We certainly haven't got a string vacancies here for all these people, so presumably they are going to have cars and jobs elsewhere.
"Are we not better building there, rather than digging up our beautiful countryside that we all should be so precious about and look after?"
Mark Kaczmarek, the Cornwall Council cabinet member for housing and planning said that if successful, such schemes could help sustain villages, particularly those which had high numbers of second homes which were often empty.
He said: "There are village schools that have falling numbers, we have village shops desperate for input from fresh blood.
"Unless we can keep local people within the local area, these villages will die."
He added that the council was holding meetings to debate the possibility of local authority mortgages.
The council said the affordable home costs would be kept right down because no-one had to buy the land.
Related Internet Links
The BBC is not responsible for the content of external sites.