Cornwall syringe factory staff 'to get new job help'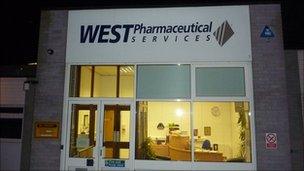 Hundreds of people who are to lose their jobs at a pharmaceutical company in Cornwall are to be offered a package of measures to help them find new work.
The 220 posts are to go at the West Pharmaceutical Services facility in St Austell which makes rubber products, including components for syringes.
The company is bringing in the cuts over a two-year period.
The Regional Development Agency said it would be working with Cornwall Council and JobCentre Plus to offer assistance.
The company said a customer contract due to expire in 2012 would mean a loss of about two thirds of its rubber product business.
The move will mean 150 staff and up to 70 agency workers losing their posts.
Stephen Bohane, from the Regional Development Agency, said a wide range of help would be offered to those affected.
He said: "We'll offer everything, from information on jobs available, to training help, to how to fill in a CV and how to apply for jobs. There's lots of practical stuff.
"It's very early to say exactly what and when, but there's a lot of help available."
A plastics unit in St Austell owned by West Pharmaceutical, which makes tamper-proof seals, is not affected.
Related Internet Links
The BBC is not responsible for the content of external sites.