Regulation call after Crown Currency Exchange crash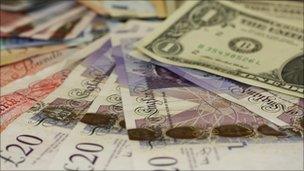 MPs have called on the City watchdog to toughen up how it regulates companies after a Cornish currency firm went into administration.
Crown Currency Exchange Ltd and Crown Holdings (CCE) collapsed in October, owing customers some £16m.
During a debate in the House of Commons, MPs called for the Financial Services Authority (FSA) to have more authority to deal with such situations.
A Treasury minister said the government would "learn lessons" from the case.
The company, based in Hayle, allowed customers to pre-order foreign currency up to a year in advance.
CCE was registered with - but not regulated by - the FSA, and so was not covered by FSA compensation schemes, the House heard on Tuesday night.
MPs were told that because it was registered, many believed they would be protected by the FSA's scheme.
So far 8,000 victims have lodged claims. Some have lost between £100,000 and £400,000 each.
During the Commons debate, MPs also heard there were problems in the months before CCE went bust.
The company was registered as a small payments institution, which meant it was supposed to operate under 3m euro a month. In its last 10 months, it was trading an average of 10m euro a month, the House was told.
Liberal Democrat MP for Wells Tessa Munt called for the FSA to improve its operation and not just act as an "overseer".
She said: "I think people are quite entitled to think that there should have been some sort of cover for the activities that company undertook."
St Ives MP Andrew George, whose constituency covered Hayle before new boundaries came in for the 2010 general election, said the case "gives rise to enormous concern".
He said: "Given that although it is not quite the scale of sub-prime or banking, the fact is it has left a lot of people in severe circumstances."
Financial Secretary to the Treasury Mark Hoban said buying and selling foreign currency was not a regulated activity, so CCE's foreign sales were not regulated by the FSA.
He added that the government would "learn any lessons" from the collapse and that he had "enormous sympathy" for those affected.
Two former directors of the collapsed company who were arrested by police investigating the company's collapse have been released on bail until July 2011.
Related Internet Links
The BBC is not responsible for the content of external sites.