Cornwall MP calls for better flood warning systems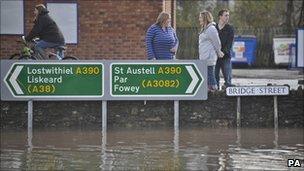 A Cornish MP has called for better warning systems and more funding for councils to deal with floods.
Hundreds of homes and shops were affected by flooding following heavy rain and strong winds in November.
St Austell and Newquay Liberal Democrat Stephen Gilbert raised his concerns in a special House of Commons debate.
Environment minister Richard Benyon said the government was planning to spend £2.1bn on flooding and coastal erosion over the next four years.
Floodwater reached 6ft (2m) in places after heavy rain hit parts of the county on 17 November.
About 230 homes and 400 businesses were affected by the flooding, with Mevagissey, Lostwithiel, St Blazey and St Austell among the worst hit areas.
No-one was seriously injured, but some residents had to be evacuated, schools were closed and the transport network was badly disrupted.
During the debate on Wednesday, Mr Gilbert said there were "lessons to be learnt".
He said: "We need to improve the early warning system, we need to work with the insurance industry, and we need to look at the threshold at which government steps in to help local councils.
"I believe these issues need to be addressed so that we in Cornwall, as well in the rest of the country, are as prepared for possible events in the future as we can be."
In response, Mr Benyon said the £2.1bn plans included providing better protection for homes and that local communities were to be involved in deciding how the money was spent.
Related Internet Links
The BBC is not responsible for the content of external sites.