Union has Falmouth Coastguard rescue concern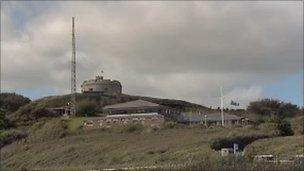 Doubts hang over the future of Falmouth Coastguard's specialist role in international rescues if it is only open in the daytime, a union says.
The Public and Commercial Services union said it was concerned that specialist knowledge of Falmouth staff over Atlantic incidents could be lost.
Under the government's proposals, it is expected that any night-time rescue co-ordinations would move to Solent.
The government said the changes would improve the service.
Under the proposals, 18 Maritime and Coastguard Agency (MCA) stations across the UK would be cut to three major maritime operations centres operating 24 hours a day in Aberdeen, Dover and Solent.
Five so-called sub-centres, including Falmouth, would operate during daylight hours.
Falmouth currently monitors an area totalling 660,000 square miles of the Atlantic Ocean. Many emergency incidents in the ocean are co-ordinated in Cornwall.
Tracy Hawk Treneer of the union said: "The training and the type of work that is carried out in Falmouth is unique to Falmouth.
"There may be an expectancy for members to relocate to one of the 24-hour stations where their expertise can be put into place there.
"However, members in Falmouth and may show a reluctance to relocate to Aberdeen or Southampton."
Cutting the number of control centres was part of a "long overdue reform of the service" which intended to modernise it and save money, the government said.
A 14-week consultation is being carried out into the proposals.
Falmouth's Marine Rescue Co-ordination Centre, at Pendennis Point, has been open since 1981.
Two other South West England coastguard stations - Brixham in Devon, which also looks after the south east Cornwall coast, and Portland in Dorset - are facing closure under the modernisation programme.
Related Internet Links
The BBC is not responsible for the content of external sites.