MP fights to keep 24-hour cover at Falmouth Coastguard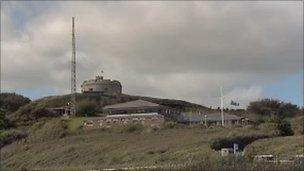 Plans to reduce 24-hour cover at Falmouth Coastguard were made without visiting the station, an MP has said.
Under the government's proposals, Falmouth would become a sub-centre operating during daylight hours only.
Truro and Falmouth MP Sarah Newton, who initially backed the move, said she was shocked by the discovery and will now fight to keep the station full-time.
The Department for Transport (DfT) said the proposals were subject to a 14-week consultation period.
"During that consultation we will listen to everyone's views before any final decisions are made," a DfT spokesman told BBC News.
Last week when it was announced that 18 Maritime and Coastguard Agency (MCA) stations across the UK would be cut to three major maritime operations centres, in Aberdeen, Dover and Solent, Ms Newton said reform of the service was "long overdue".
But she has now vowed to campaign for Falmouth to keep its "crucial" role in international rescues after discovering no-one from the MCA visited the station before the proposals were announced.
"I found out that the team in the coastguards themselves who came up with these schemes for the modernisation proposals hadn't actually visited Falmouth," she told BBC News.
"As a result, in the consultation document there are whole gaps about the modernisation of the service because it doesn't take into consideration everything Falmouth does.
"It is very disappointing."
Falmouth's Marine Rescue Co-ordination Centre, at Pendennis Point, has been open since 1981.
Coastguards there currently monitor 660,000 sq miles of the Atlantic Ocean and many emergency incidents are co-ordinated in Cornwall.
Related Internet Links
The BBC is not responsible for the content of external sites.