Blue cheese made world champion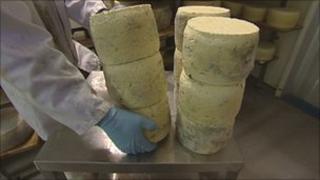 A Cornish cheese company is celebrating being crowned world champion.
Cornish Blue beat off competition from more than 2,000 others at the World Cheese Awards and is the first British winner in a decade.
An estimated 40 tonnes of cheeses were judged by 150 experts from around the globe. A supreme jury of 12 experts announced the winner.
Philip Stansfield, from the Cornish Cheese Company, said he was stunned at the award.
'Can't believe it'
Mr Stansfield said the cheese - produced at Knowle Farm at Upton Cross, near Liskeard - came about as a way of using unsold milk.
He said he "just couldn't move" when the winner was announced.
He said: "The chap I was next to said: 'It's you.'
"I said: 'I know it's me, but I just can't believe it'."
Mr Stansfield the cheese was developed after considering what women would like.
He said: "We thought the ladies do most of the buying, so if we do a cheese that they like, we might be on to a winner."
County tourism officials added they hoped the commercial value of the award would be felt beyond just the farm's gates.
Malcolm Bell, from Visit Cornwall, said: "What it will do is raise the profile of not just Cornwall but British food and drink."
The company, which employs five people, is already exporting the winning cheese to America, Japan and Kuwait.
It said it hoped the award would help it gain more international business.
The awards took place at the BBC Good Food Show, which was held at the NEC Birmingham at the end of November.