Egg showing success for retired Tregony farmer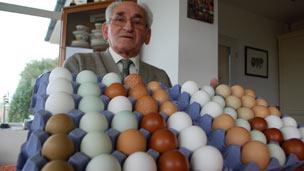 A retired farmer from Cornwall has said he will continue working after winning a number of prestigious awards showing eggs.
Michael Simmons from Tregony keeps about 200 birds - including chickens, ducks and geese.
After years of cross breeding birds, the 76-year-old has managed to produce a variety of coloured eggs.
As well as the traditional brown and white eggs, he has blue, green, mahogany and khaki brown eggs.
Mr Simmons has won numerous accolades for his eggs in the past 12 months at local shows, including the Royal Cornwall Show at Wadebridge.
The retired farmer, who will be 77 in March, said he wanted to continue, although he "might slow down a little" by doing more judging instead.
"I just love showing eggs and I love helping other people to show them," he said.
He has admitted to staying up until the small hours waiting anxiously for his hens to produce the "perfect" winning eggs.
"To get three perfect eggs takes a lot of doing - perhaps the hen will have to lay 15 or 16 eggs to get three good ones," he said.
To show the eggs, there must be a minimum of three which have all come from the same hen.
"You must get the eggs the right size, the right shape, the right colour and you must get them fresh," Mr Simmons said.
"I've got a few secrets for putting them together to get different coloured eggs - it's very hard to get them to match.
"It's a lot of work, but I hope to keep going for lots of years yet."