Body remains discovered on Delabole farmland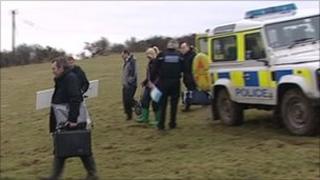 The remains of a body have been found on farmland in Cornwall.
Devon and Cornwall Police said the discovery was made on New Year's Day by members of the public.
They were shooting on farmland near Delabole when the skeletal remains were found next to a stream.
Police said it was too early to establish a cause of death or determine the gender. A pathologist has been called to examine the body.
No identification has been made and an investigation has begun.