Freeze causes decline in flowers at Cornish estate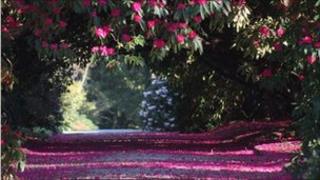 Gardeners at a Cornish estate say December's freezing conditions have caused a massive decline in the number of plants flowering.
There has been an 80% drop in the number of plants in flower at Tregothnan, near Truro, compared with this time last year.
Garden Director Jonathan Jones said it was the worst it had been since the 1890s.
Temperatures reached about -10C (14F) in some parts of the county.
Species such as camellias and daffodils were affected by the icy weather.
Mr Jones said: "People come to the garden to count the flowers over the new year period and see what additional plants are in bloom compared with previous years.
"This time it was as if we went back to the 1890s, as very few flowers were out.
"In one section of the garden there were only 18 species in bloom compared to 100 this time last year."
Mr Jones said the big freeze of 1890 killed off all the palms in the garden.
He added that rising temperatures over the past few days meant that more species had started to flower.
The Tregothnan Estate has been home to the same family since 1335.
It supplies flowers for florists and would normally expect to send out hundreds of bouquets at this time of year.