Cornwall flu cases 'expected to peak at end of January'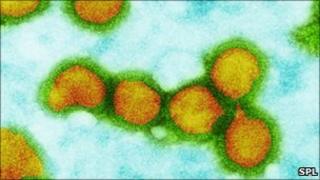 The number of people suffering from flu-like symptoms is expected to rise to a peak at the end of January, said Cornwall's director of public health.
Felicity Owen told BBC News there was likely to be an increase in the number of people suffering from flu symptoms in the next few weeks.
The trend will continue upwards but it was not at epidemic level, she said.
Mrs Owen added: "The levels of flu are what we expect to see in a typical season."
She said the levels in Cornwall were "high, but not at an epidemic level".
In the South West the latest figures, from December 2010, suggest that 86 people out of every 100,000 who visited their GP had flu-like symptoms.
The regional office of the Health Protection Agency told the BBC that the number of cases was just above average for this time of year.
Mrs Owen said she expected the number of cases to rise as people returned to school and work after the holidays.
There are several strains circulating at the moment and Mrs Owen said swine flu had accounted for a rise in the number people admitted to hospital.
The NHS is advising people in at-risk groups - including the elderly, pregnant women, children and those with long-term illnesses - to get vaccinated, and for everyone to take simple hygiene measures.