Anger over Travadlock bus cost time change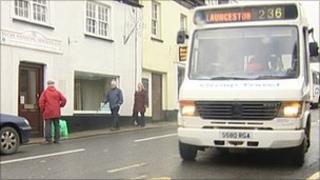 Bus passengers in a Cornwall village must pay £2 to travel to their nearest town after the council switched the times of free rides.
Residents of Travadlock got free rides on the 0915 to Launceston, but now the free rides are only available after 0930.
The change to the 236 service was agreed by the council to cut costs.
The council, run by a Conservative and independent coalition, said it had to make cuts to save £170m.
Passenger Patricia Paulinge said: "If you pay £2 twice a week that's about £200 a year.
"That could pay for gas, electricity or even the council tax.
"I think it's grossly unfair. Lots of people don't have any other forms of transport."
Local councillor Phil Parsons said: "I will see what I can do in response to their demands to either change the timetable or bring another secondary service later for which they would not have to pay."
Cornwall Council said it regretted having to bring in the restrictions, but they were part of £170m savings it had to make.
The alternative would have been to cut funding to other bus operators that needed support.