Ryanair axes flights from Newquay Airport in Cornwall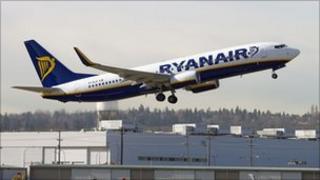 Ryanair has pulled out of Newquay with the withdrawal of its summer service to Alicante in Spain.
The airline blamed the "continued imposition" of a £5 charge per departing passenger, imposed by airport owners Cornwall Council in 2006.
Ryanair apologised and said it would be a giving a full refund to passengers who had booked flights.
The council said the tax helped improve the airport which was expected to see more passengers in the long term.
Dublin-based Ryanair reduced the number of flights from Newquay after 2006 in response to the £5 Airport Development Fee, saying it deterred customers.
However it later reinstated a number of flights and in 2009 it ran 13 flights from Newquay airport each week to London Stansted, Alicante and Barcelona.
Stephen McNamara of Ryanair said: "We have had an issue with the £5 fee since it started.
"It is a significant fee and we do not believe it should continue."
The move is the second blow in 2011 for Newquay after Air Southwest announced in January that it was dropping flights to Gatwick.
Tim Jones, chairman of Devon and Cornwall Business Council, said it was "bad news for Newquay and Cornwall and very bad timing with the loss of the Gatwick link".
But he believed Newquay had a "strong future" and would recover.
Cornwall Council said it believed the majority of the airport's users were happy to contribute to supporting the airport's long term future.
Passenger numbers increased from 75,000 in 2001 to more than 400,000 in 2007 and are forecast to grow to more than 1m by 2030.