Cornish Pirates rugby club offer Cornwall stadium plan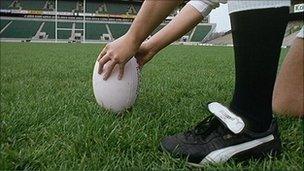 A rugby club is in negotiations with Cornwall Council to build a new stadium, the team's owner has said.
Cornish Pirates owner Dicky Evans said he met with the council's chief executive earlier this month.
Mr Evans said the Pirates had offered to run a stadium near Truro for 10 years, financed by the team and other stakeholders at no cost to the council.
The council said it had no formal position yet, but acknowledged the plan could have economic benefits.
Mr Evans said the Pirates were prepared to help finance the project at Threemilestone with other partners and then take up a key tenancy to "guarantee the council a no-cost solution".
However, he said it was not certain if the stadium could be used for football as well.
He said: "If Truro City [Football Club] want to be a part, there will be huge costs of maintenance, so they will be asked as well to put in a 10-year bond as well.
"But mixing rugby and football could be a bit of a problem in terms of the pitch. After a [rugby] game, it takes a lot of work to put the it back together."
Last year, Cornwall Council said no public money was to go towards the building of a stadium for the county because of spending cuts.
Sandra Rothwell, head of economic development at the council, said of the Pirates' plans: "As a council, we still got to go through due process with this and we have not agreed a formal position on this."
But she added: "Having a stadium is important for the county, given our population and our ambition."
Related Internet Links
The BBC is not responsible for the content of external sites.