Network Rail stops work on 80ft mast in Cornwall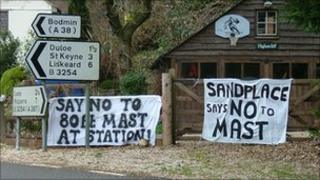 Network Rail has stopped work on an 80ft (24m) communications mast, after people living nearby said they were not told about the construction.
The company has apologised to residents of Sandplace, near Looe, Cornwall, and a month-long consultation has begun.
Network Rail said it was due to an "administrative error", but BBC News has been told of other cases where it appears residents were not told.
The company said it was happy to look into it and see what could be done.
Network Rail said the masts helped to provide a system for train drivers and signallers to communicate, and would reduce the risk of serious accidents.
'A monstrosity'
Local resident, Steven Wright said the work had been carried out without any consultation with residents.
"They're doing everything by the back door," he said.
Network Rail has insisted it is complying with an EU safety directive and that the mast meets guidelines for power output, frequency and safety.
BBC News has been told the company does not need planning permission, but it is obliged to consult councils and MPs.
Network Rail has agreed to do no more work on the Sandplace mast until full consultations have taken place.
In another case, Michael and Jenny Cochrane said the company failed to tell them about a mast that was erected along the Truro to Falmouth branch line at Trewedna Hill.
Mr Cochrane said the mast was built within a day.
"By lunchtime this mast was on the horizon, completely ruining our 180 degree view", he added.
Mrs Cochrane said, "It's a monstrosity. They admitted they should have contacted us."