Brain-injury victim lobbies pubs over glass bottles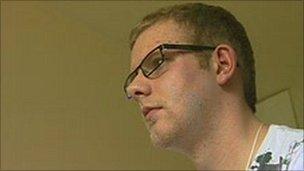 A man from Cornwall left brain injured after an attacked with a glass bottle, is campaigning to stop pubs and bars using them after nine at night.
Jack Nutting, who had been hoping to train as a doctor, broke up a fight between two women in a London bar.
The 21-year-old was then attacked by a man armed with a bottle, severing an artery in his brain.
Mr Nutting is now contacting MPs in the south west in the hope they will support his campaign.
"I've started sending the MPs emails to try to get support," he said.
The attack last September left him limp on the left hand side of his body.
He then spent five months in hospital after doctors were forced to remove parts of dead brain tissue.
His stepfather Jack May told BBC Spotlight that the family keep up a constant level of care.
"Every other day one of us has to come and see him helping him to get his food or doing his washing."
Mr Nutting is hoping his campaign will gather sufficient momentum to persuade clubs and bars in some of the region's biggest towns and cities to ban the sale of drinks in glass bottles after 2100.
"We are planning a demonstration and protest in the centre of Plymouth and Truro to try to get extra support," said Mr Nutting.