Staff Sgt Olaf Schmid died defusing new Taliban device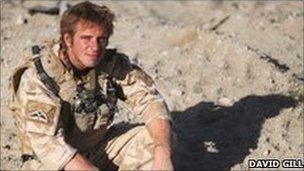 A bomb disposal expert was unlawfully killed in Afghanistan trying to defuse a device he could not have detected, a coroner has ruled.
Nothing about the Army operation could have prevented Staff Sgt Olaf Schmid's "catastrophic injuries", said West Cornwall coroner Emma Carlyon.
Staff Sgt Schmid, 30, had triggered a new type of pressure plate developed by the Taliban, the inquest heard.
In a statement his widow Christina said the hearing had been "traumatic".
She said the process of recording the precise moment of her husband's death had been "deeply unsettling".
Staff Sgt Schmid died in October 2009 the day before he was due to fly home.
The inquest was told how he had appeared "rushed" and "under pressure" on the last day of his tour.
Cpl Thomas Stace said the "inspirational leader" appeared "somewhat impatient" as he defused explosives on the day of his death.
Staff Sgt Schmid had made a comment to one colleague about speeding up, said Cpl Stace.
The hearing was also told that the night before his death he had received a phone call from his stepson Laird who told him "Daddy, it's time to come home".
On one occasion Staff Sgt Schmid was said to have touched a command wire with his hands when dealing with a roadside bomb.
But Col Seddon, the former head of the Royal Logistics Corps, said: "In the circumstances it is quite understandable."
Staff Sgt Schmid, who was posthumously awarded the George Cross, was probably killed when his knee touched a pressure plate made of wood and copper wire.
This construction had only been seen in the previous two months in Sangin, the inquest was told.
Col Seddon paid tribute to a "giant of a man" who was "phenomenally great" at dealing with IEDs - improvised explosive devices.
But an element of luck was always needed when dealing with bombs and explosives, he said.
"We have to be lucky always, they (the Taliban) have to be lucky just once," he added.
Staff Sgt Schmid was "working under intense pressure" and "should be judged by the number of lives and limbs he saved," said Col Seddon.
Ms Carlyon paid tribute to the witnesses over the two days who had helped her understand the bravery and courage of those working in Afghanistan.
Related Internet Links
The BBC is not responsible for the content of external sites.