Campaigners sleep rough in Truro to protest £10m cuts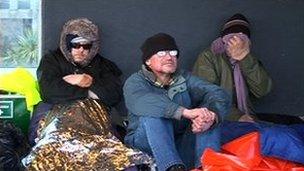 About 70 people have slept rough on the steps of Cornwall's County Hall to protest against proposed budget cuts.
The council's services for homeless and vulnerable people are likely to lose 40% of funding as it makes £10m cuts to frontline services.
The protest in Truro was organised by the charity Cosgarne Hall, which offers housing-related support.
It said 1,500 vulnerable people in the county could be left without support to keep them off the streets.
John Coventry, who organised the protest, said: "I just cannot understand the priorities that the council are expressing.
"Every pound spent on supporting people's services saves £5 or £6 in the long run so it makes good financial sense as well as good human sense."
Paul, who stayed at Cosgarne Hall when he was homeless and was helped to find a flat, said: "If it weren't for Cosgarne Hall I wouldn't be here now."
His partner Claire, who also used to be homeless, said: "We'd both be dead in a ditch now.
"It breaks my heart to think the service wouldn't be there for people who need it like we did."
Cornwall Council said the budget cuts were all about "hard choices" and it would try to minimise the impact on "smaller providers".
Related Internet Links
The BBC is not responsible for the content of external sites.