Woman 'murdered in Cornwall sex attack cover-up'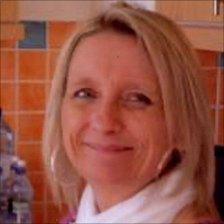 A man from Cornwall murdered a care home assistant by setting fire to her home to cover up a sex attack, a court heard.
The body of Corby Craze, 43, was found naked at her burned-out house in Vivian Road, Bodmin, on 14 August 2010.
Terence Whitham, 34, from Bodmin, denies murder and burglary but has admitted charges of theft, arson and manslaughter.
The trial at Truro Crown Court is expected to last a week.
The court heard that on 13 August 2010, Corby Craze, a mother-of-two, met Mr Whitham for the first time in a Bodmin pub.
She went on with him to a nearby pool club, where they were caught on CCTV.
Martin Meeke, QC, prosecuting, said Mr Whitham boasted to a doorman about his intention to have sex with Ms Craze and later told police he hoped to have sex with her after he walked her home.
The court heard Mr Whitham had been involved in a fight earlier in the evening and his blood was found on Ms Craze's pillowcase.
He is alleged to have told his brother that he started the fire to "cover his tracks" because he was afraid the DNA in his blood would identify him.
Mr Whitham denies any sexual motive.
Mr Meeke said the defendant admitted to police he had taken items from the house, including a laptop computer and TV, and then started a fire to the destroy evidence.
The blaze was so intense Ms Craze's body was not found until the next day.
Mr Meeke also said Mr Whitham used Ms Craze's car to transport the stolen goods home before leaving it burned out.
He told the jury: "You may consider that given [Mr Whitham's] express desire to have sex with Ms Craze the evidence will lead you to conclude that some sexual activity took place.
"Given... his lies about putting her to bed full clothed, you may conclude that sexual activity was against her will, so by setting fire to the house and killing her, she would not be in a position to report him for whatever he may have done to her.
"We say this was a case of murder, not manslaughter.
"It was his intention to cause her death. He says it was not and that is the principle issue the jury must decide."
Related Internet Links
The BBC is not responsible for the content of external sites.