Mourners pay tribute at funeral of writer Joan Rendell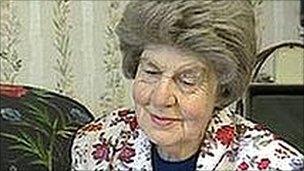 The funeral has taken place of Cornish writer and historian Joan Rendell.
Ms Rendell MBE died in a fire at her Yeolmbridge home in May last year, aged 89.
The Reverend Barry Kinsmen, a past president of the Federation of Old Cornwall Societies, gave the eulogy at the parish church at Werrington.
He described her as a fiercely independent woman who was "strong and determined" and blessed with "great gifts".
Ms Rendell was a "unique person who was Cornish through and through", he said.
"She will be greatly missed not only by her many friends in Cornwall but all over the world," added Mr Kinsmen.
Ms Rendell was an avid collector of matchbox covers with a collection of 300,000 which was thought by some to be one of the largest in the world.
Many of her books and archive material was saved from further damage by firefighters who rescued the material from the remains of her home.
Related Internet Links
The BBC is not responsible for the content of external sites.