Cornwall's jobless figures rise again for January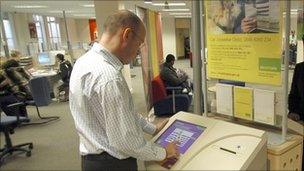 More people were out of work and claiming benefit in Cornwall last month, new figures have shown.
According to the Office for National Statistics (ONS) the number of claimants in January was 9,799 - up from 8,933 the previous month.
The figures represent an unemployment rate of exactly 3%, which is below the equivalent national rate of 3.7%.
The rise is partly due to the routine seasonal slowdown in the local economy.
Nationally, the number of people claiming Jobseeker's Allowance in January increased to 1.5 million.
On the broader measure of unemployment, the ONS statistics for the UK rose by 44,000 to almost 2.5 million in the three months to the end of December.
The jobless figure for the county is expected to rise as Cornwall Council prepares to cut its 20,000-strong workforce by an estimated 700.
Related Internet Links
The BBC is not responsible for the content of external sites.