Cornish Stingers nettles brew in tax row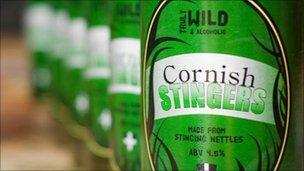 A Cornish food and drinks producer is at the centre of a row over whether its nettles brew is a beer.
Helston-based brewer Foodswild has been issued with a tax bill of £10,000 from HM Revenue and Customs (HMRC).
HMRC said under EU rules beer must contain malt and the Cornish Stingers drink is a "made wine", on which duty is about twice that of beer.
Foodswild says Stingers is a beer and a Cornish MEP has called on European officials to clear up the dispute.
The results of a review are expected in the next two weeks.
Foodswild founder Miles Lavers said: "It's a natural product made from nettles.
"We want to make more products like dandelion beer so this is very important to us."
Conservative MEP Ashley Fox said: "Cornish Stingers is a beer pure and simple. It has been made for centuries to the same recipe.
"The fact that some Eurocrat in Brussels decides that beer is only beer if malt is added should not be an issue.
"We must try to make it easier for small businesses to operate, not tie them up with excessive rules."
A spokesman for HMRC said: "The rules concerning the taxation of alcoholic drinks are set out in European legislation.
"To qualify as a beer, and therefore be taxed as a beer, a product must be made from malt.
"Alcoholic products that cannot be defined as either beer, wines of fresh grape, spirits, cider or perry are charged with the duty rate for 'made wine'."
Related Internet Links
The BBC is not responsible for the content of external sites.