Slate quarry past of wind farm site at Delabole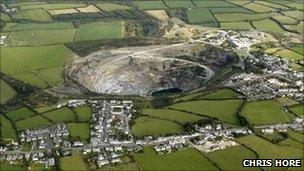 It may be famous for wind energy now, but the village of Delabole grew up around its world famous slate quarry.
The UK's first commercial wind farm at the site has now reopened after a multimillion-pound redevelopment.
Several small privately owned or leased quarries operated on the site until 1841, when all were combined to form The Old Delabole Slate Company.
This became a limited liability company in 1898.
Over the years the slate from Delabole has been shipped to various parts of the world.
It has been used as a building material for more than 600 years.
The quarry itself is 425ft (129m) deep and more than a mile-and-a-half in circumference.
In 1859, in Murrays Handbook of Devon and Cornwall, the author wrote: 'the quarries present one of the most astonishing and animated scenes imaginable'.
About 1,000 men were employed at this time, raising an average of 120 tonnes of slate per day.
Long before the coming of the railway, the slate was cut and hauled six miles to Port Gaverne where it would be loaded on to vessels moored in the harbour area.
It would take 30 wagons, pulled by more than 100 horses to load a ship.
The village only became Delabole after the railway arrived in 1893. Before this it was made up of three hamlets called Rockhead, Medrose and Pengelly.
Now all eyes are on the future of the village and its role in wind power.
The Delabole Wind Farm blades started turning on the North Cornwall site in 1991.
The wind farm began with 10 turbines, which stand at 164ft (50m), at the remote site near Wadebridge.
Energy Secretary Chris Huhne has officially relaunched the site unveiling four more powerful turbines.
They stand at 325ft (99m) high and harness wind more effectively.
The potential electricity generated will more than double to 9.2 megawatts - enough to power 7,000 homes.
The wind farm itself was originally built as a greener alternative to plans for a nuclear power station in the area.
Since 2002 it has been owned and operated by Good Energy, which has spent £11.8m to re-power it.
Related Internet Links
The BBC is not responsible for the content of external sites.