Cornish pasty name given European protected status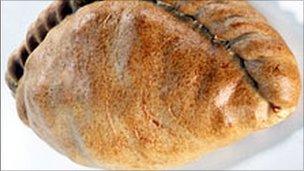 The term "Cornish pasty" has been given protected status by the European Commission.
It means that only pasties made in Cornwall from a traditional recipe can now be called "Cornish pasties", the Cornish Pasty Association (CPA) said.
The Protected Geographical Indication (PGI) status means "genuine" Cornish pasties will now be stamped with a special logo.
The CPA said it wanted to protect the "quality and reputation" of the pasty.
It said "authentic" Cornish pasties could still be baked elsewhere in the country but they would need to be prepared in Cornwall.
David Rodda, from the Cornwall Development Company, said: "By protecting our regional food heritage, we are protecting local jobs.
"Thousands of people in Cornwall are involved in the pasty industry, from farmers to producers, and it's important that the product's quality is protected for future generations."
Alan Adler, chairman of the CPA, said: "We are helping to protect our British food legacy.
"We lag far behind other European countries like France and Italy, that have hundreds of food products protected, and it's important that we value our foods just as much."
South West Liberal Democrat MEP Graham Watson, who took a batch of pasties to Brussels last year to back-up the PGI application, said the decision meant the recipe would now be "secured".
The protected status means the pasty now has the same standing as Roquefort cheese, French Champagne and Jersey royal potatoes.
Other items from Cornwall already on the protected list include Cornish clotted cream and the Cornish sardine.
A European Commission spokeswoman said it had a "wealth" of schemes to protect regional foods.
She said PGI applications were submitted by governments on behalf of food manufacturers and considered by other European member states.
After six months, if no objections are raised, food items automatically receive protected status.
The CPA, which had to come up with the "genuine" Cornish pasty recipe as part of its PGI application, said an authentic pasty should have a distinctive 'D' shape and be crimped on one side, never on top.
It said the filling should be "chunky, made up of uncooked mince or chunks of beef with swede, potato and onion and a light seasoning" and that the pasty should be slow-baked.
Related Internet Links
The BBC is not responsible for the content of external sites.