Cornish artist puts up Celtic surfing sculptures by A30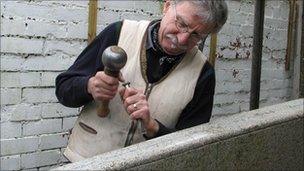 Two new granite sculptures which combine ancient Celtic art and modern day surfing have been put up alongside the A30 in West Cornwall.
Last year Rory Te' Tigo had to remove a row of his stones from beside the road because he could not get insurance.
He has started creating a new artistic project in the grounds of the White Sands Hotel in Sennen.
His new works are called Surfer 1 and 2, reflecting modern life in Cornwall with an ancient twist.
Rory Te' Tigo, of St Just, originally installed his "Cornish Uprights", each weighing up to 250kg (39st), along a stretch of the A30 from Sennen to Land's End in 2005.
But last year he decided it was too expensive to insure them on the off chance that someone is injured while viewing them.
The original sculptures were moved to a private garden in the county.
Now the artist, who is well known for his Mermaid of Zennor sculpture, is creating more eye-catching Celtic art for Cornwall.
Mr Te' Tigo said: "Surfer 1 and Surfer 2 are made from Cornish granite, integrating surf culture into Celtic ideas and Celtic life as something that is happening right now."
The new work is already gaining praise. Local resident Brian Ellwood said: "It's not just the sculpture you can see in one shape.
"You can walk around and get up close and see all sorts of different symbols which are all related to the local area."
Rory Te' Tigo was born in Hannover, Germany, in 1951. He always had a dream of working in Cornwall.
In the 1980s he gave himself a year and a day in west Cornwall to see if he could make this dream a reality.
He said: "I think it's very important to show people art should be joyful and fun in life.
"I like to show people I am having fun hacking away at the granite and you can hopefully enjoy what I have done."
Today Mr Te' Tigo carves in granite, wood, and limestone. He also makes silver jewellery that is inspired by his Pagan beliefs.
He expects millions of people will see his new work, especially during the summer season as tourists pass the granite surfers on their way to Land's End and other parts of west Cornwall.
Related Internet Links
The BBC is not responsible for the content of external sites.