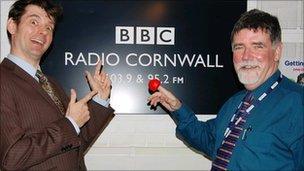 Have you ever gone to a theatre or a club to watch Stand Up comedy?
Can you imagine anything more terrifying than standing on stage trying to make people laugh?
Well for Red Nose Day this year, two very brave (or very foolish) men from BBC Radio Cornwall are going to become Stand Up Comics.
Michael Taylor and Matt Pengelly have donated themselves to the world of stand up entertainment.
The aim of Red Nose Day is to have a laugh while raising money which can transform lives across Africa and the UK.
Across the UK your cash can help to provide comfort for isolated older people and help to give young carers their childhoods back. In fact it is likely you are never more than 30 miles from a Comic Relief supported project.
In Africa, your money helps to restore people's sight, to protect families from deadly malaria, to give an education to children whose lives have been torn apart by war, and so much more.
Radio Cornwall's comedy duo will learning to write a routine, practising it religiously and then will be performing it on stage in front of a paying crowd in Plymouth as part of Stand Up for Comic Relief.
"We haven't given it a thought yet, we are going in completely cold and completely terrified."
Matt adds, "We're hoping the people will buy into our journey....which might be up the M5 very fast indeed."
"Not only are we very nervous, but the management here are having kittens. They are genuinely very worried about letting Michael and I loose."
The two Chuckle Twins will be keeping us up to date here and on BBC Radio Cornwall on their Stand Up For Comic Relief mission.
To show your support for Michael and Matt and turn funny into money, simply text "Cornwall" to 70011.
Texts cost £1 plus your standard network message charge. £1 per text goes to Comic Relief.
You must be 16 or over and please ask the bill payer's permission.
To find out how you can raise money and take part, visit the Red Nose Day 2011 website:
If you are hosting a local fundraising event and would like to tell us about it than let us know by emailing: radio.cornwall@bbc.co.uk