Oil worker tells wife in Cornwall Libya situation worse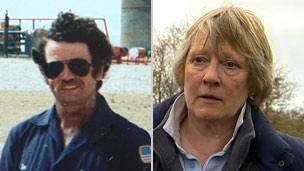 An oil worker who is trapped in Libya had told his wife in Cornwall the situation is getting worse.
Colonel Muammar Gaddafi has vowed not to give in to protesters' demands to leave the country.
Glynis Kirkland, 60, from Connor Downs, said she was sick with worry about her husband Ian, who is in a compound about 500 miles from the capital, Tripoli.
He said there had been looting and shots fired nearby and the compound's food and water was running low.
More than 300 people have been killed in the Libyan protests so far.
Mr Kirkland, a 59-year-old drilling specialist for Expro, has been able to phone his wife, but his words have not reassured her.
"I spoke to him about 0615 and the situation has not improved for these guys," Mrs Kirkland told BBC News.
"He said there's been firing and looting not 600m from the compound and they've lost a few more trucks.
"They've only got a few days left of food and water supplies."
Mrs Kirkland said although her husband was safe, she had no idea how he was going to get home.
"The airspace around him is still closed and it's been made quite clear that if any foreign national aircraft attempts to land, they will shoot it," she said.
"As a wife at home... I'm wondering how they're going to get him out.
"The government must be in a very, very tricky situation, but I can't see - other than actually almost going in with force and possibly losing some of our people - what more they can do to try to force Gaddafi's hand."
Although she thought the government had been "a bit slow on the uptake", she said it was in an unenviable position.
Prime Minister David Cameron has apologised for the government's handling of the evacuation of British nationals from Libya.
The Royal Navy's Devonport-based warship HMS Cumberland is at the harbour in Benghazi and specialist military personnel have been put on standby for emergency deployment to parts of Libya.
Mrs Kirkland said her husband had worked in the oil industry around the world for 30 years, but she had never been so anxious as she was now.
Related Internet Links
The BBC is not responsible for the content of external sites.