Cornwall Council's concerns over pothole funds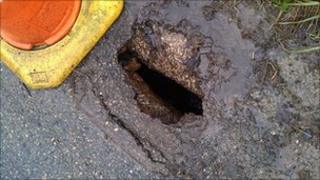 Cornwall Council has said it will have difficulty paying for pothole repairs because of limited budgets.
The authority said about £18.2m could be spent on highways maintenance in 2011/12, which was not enough for the necessary repairs.
Freezing winter temperatures had led to many potholes in the county causing problems for motorists.
Many mechanics in Cornwall said they had seen "a dramatic increase" in cars with suspension problems.
Brian Symons, from Renault Autocare near Truro, said: "The increase was mostly because of the potholes."
Another mechanic said some motorists were having to re-align their car's tracking three or four times a year, because of the potholes.
A spokesperson from Cornwall Council said the effect of the past two winters had accelerated damage to the roads.
They added they had identified the holes, but had been unable to address them within recent and current budgets.
In 2010, Carolyn Barnard, from Rilla Mill near Callington, had to spend £200 on her car after having a pothole accident.
She told BBC News she needed a new wheel and the tracking adjusted after her car went into a hole in a lane near her home.
Responding to a BBC Freedom of Information request, Cornwall Council said that more than £10,000 had been paid out on individual compensation in 2009/2010, because of damage caused by potholes or highways maintenance.
Last week, the government said it would be putting aside £100m for councils to bid for if they felt they had been badly hit by potholes.
A spokesperson from Cornwall Council, which is run by a Conservative-Independent coalition, confirmed the authority would be applying for the money.