Cornwall children's services 'inadequate', Ofsted says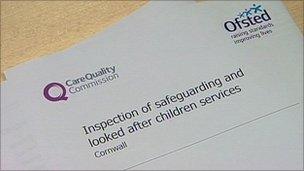 Cornwall Council's children's services have again been labelled as "inadequate" by Ofsted.
It follows a damning report in 2009 which found similar problems.
The report, based on inspections carried out in January, said "drift and delay" in the system left children at risk of "significant harm".
Cornwall Council said it had worked hard to address the shortcomings identified from the last inspection in 2009.
In a statement, the authority said it did not accept all the findings in the report, but was taking it very seriously.
'Not sufficiently challenged'
The Ofsted report said a plan had been put in place by the council after 2009 which covered 15 key priorities for improvement.
While there been some "significant improvements", it said the focus on operational child protection procedures and practice was insufficient.
Children's social care had not ensured a "consistent and robust risk assessment" and partner agencies had not sufficiently challenged those failures.
"These practices lead to an unsafe child protection system which causes drift and delay and leaves some children at risk of significant harm," the report said.
It also said the management and practice of too many cases were assessed to be inadequate by inspectors, including children who were at risk of significant harm.
However, the Ofsted report said the services for children in and leaving care were much better, and rated them as "adequate".
The council said action had already been taken to resolve the key problems identified by inspectors and it had drawn up a robust plan to ensure all issues were being addressed.
It said: "Our focus going forward is to ensure that the quality of practice is of a consistent standard in all cases."
The council added: "It is important to note that the inspectors did not refer any cases where they felt a child was at immediate risk of harm."
Related Internet Links
The BBC is not responsible for the content of external sites.