Cornish oil worker escapes Libya on US embassy flight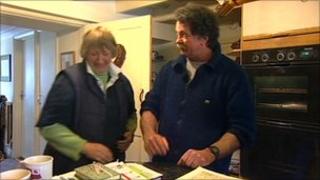 An oil worker from Cornwall has told the BBC he escaped from Libya on a flight full of fleeing US embassy staff on the day his desert camp was "hit by forces".
Ian Kirkland, a 59-year-old drilling specialist from Connor Downs, near Hayle, said "words could not describe" how he felt to be home.
Mr Kirkland was working in a compound about 500 miles (800km) from the capital, Tripoli, when anti-government protests broke out across the country and were met with violence by the regime.
Mr Kirkland said: "When it all kicked off we thought 'we've got a problem here'.
"We didn't know how far it was going to go.
He said the Libyan government shut down internet, mobile phone and telephone systems and food and water supplies began running low.
Gunfire 'disconcerting'
He said: "We didn't know what was happening. Things went rapidly downhill.
"We were hearing of neighbouring camps and companies being hit - they wanted vehicles.
"There were forces out all over the place just trying to steal.
"They hit our camp the morning that we evacuated."
Mr Kirkland said he did not know whether the intruders were local gendarmes, vigilantes or "opportunists" but it was "disconcerting when all you can hear is gunfire around you".
He said he and his colleagues contacted British Embassy staff to give them their names but they were not passed on to the Foreign Office.
'Hairiest ride'
The workers eventually managed to get on a flight to Tripoli organised by an oil company.
"We had 30 minutes notice that the flight was coming in and a 25-minute drive to the airfield.
"It was the hairiest desert ride I've ever had."
Mr Kirkland said once they landed in Tripoli they were able to get places on a charter flight carrying US embassy workers to Istanbul.
He said a fellow worker drove through gunfire to bring their passports, which were at the city's other international airport, to them.
Mr Kirkland said the passports arrived "five minutes before the flight landed".
His wife, Glynis, was on the phone to BBC Radio Cornwall on Saturday when her husband called her to say he was on his way home.
Three generations of his family travelled to meet him at Heathrow Airport.
The Foreign Office believes the bulk of British nationals who want to get out of Libya have now left.
Mr Kirkland, who has 30 years experience of working in the oil industry around the world, said he would not be returning to Libya any time soon.
"I don't think we've seen the end of it and I don't think we'll be going back in," he said/