Cornwall's customs service to be directed from Gatwick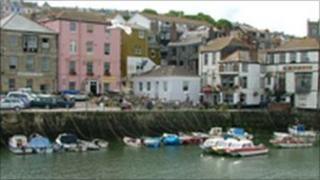 A customs intelligence unit tackling drug smuggling and illegal working is being moved from its permanent base in Cornwall to Gatwick Airport.
The historic customs house in Falmouth will close early next year, the UK Border Agency said.
The closure is a result of modernisation plans and government cutbacks.
Sarah Newton, MP for Truro and Falmouth, said she was concerned about a loss of local knowledge.
The agency said Cornwall would still have "operational" staff but could not confirm whether any jobs would be lost.
Brodie Clark, head of Border Force at the UK Border Agency, said: "We are... reviewing the way we deploy our staff so that we maintain frontline services despite an overall reduction in resources.
"We will still have operational UK Border Agency staff on the ground in Cornwall, as well as a fleet of modern, world-class cutters and crews who are continually active in the South West approaches.
'Lengthy coastline'
"Our priority remains to secure the border and to control migration while achieving best value for the taxpayer."
Parts of Revenue and Customs merged with the Immigration Service in 2008 to form the UK Border Agency.
The agency said that because of Cornwall's "lengthy coastline" and the "large number" of small ports and harbours, a "static thin blue line" of staff based at a single port had not been found to be cost-effective.
Instead, mobile intelligence units, directed from Gatwick, would be sent on an "intelligence-led" basis to where the "risk is greatest".
Plymouth's customs house closed in December, with customs officers moving to a new office at West Point.
The agency said about 100 border force posts (3.5% of staff) were due to go across the whole South & Europe region over the next 12 months, but the impact on Devon and Cornwall "could not be estimated at this stage".
Ms Newton said that local customs officers "feel that the UK Border Agency doesn't fully appreciate the role that they play".
She added: "I am very concerned about a loss of local knowledge.
"The officers have been involved in some spectacular seizures, especially drugs."
Mrs Newton said she was due to meet the Immigration Minister Damian Green to discuss the proposals.
"As ever the devil is in the detail.
"If the plans are not right I will be challenging them."
The closure of Falmouth's customs house follows the announcement in December of plans to reduce cover at Falmouth's coastguard station, the only one in Cornwall, to daytime hours only.