Calls for bigger St Piran's Day celebrations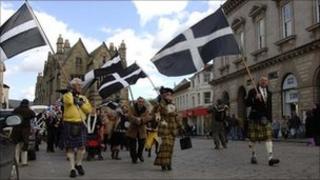 A man from Cornwall is leading a campaign to make the Cornish saint of tinners St Piran as famous as Ireland's patron saint.
St Patrick's Day is celebrated in pubs and clubs.
Now Cornish enthusiast Ben Read is hoping St Piran will capture the imagination of landlords.
The campaign has begun by establishing St Piran's Day as a day of music and celebration to encourage about 500 pubs across Cornwall to take part.
Legend of St Piran
Mr Read said: "There's people around who already celebrate St Piran's but I'd like to see it as a massive celebration, even spilling out across the globe."
Pubs in Cornwall have been sent St Piran's party packs to stage their own celebrations.
The packages include a St Piran's flag, bunting, CDs with Cornish music and a St Piran's pub quiz.
St Piran is said to have come ashore at Perranporth, in Cornwall, in the Sixth Century, having journeyed in a small boat from Ireland.
He built a chapel in the sand dunes and the Cornish people flocked to see him as news of his teachings spread further afield.
Legend says one day St Piran noticed a stream of silver white metal flowing from the black stone of his hearth - the mineral was tin, which became an important industry in Cornwall for several centuries.
The black and white of the St Piran's flag relate to the tin discovery story.
Each year, St Piran's life is retold in a drama on the sand dunes in Perranporth.
'Publicity stunt'
Mr Read said St Patrick's Day was not always the big event it is now, but only gained global popularity during the 1980s.
"St Patrick's Day was a publicity stunt by the breweries... they sent out funny green hats one year and 20 years on it's massive," he said.
"I believe that Cornwall has got enough character and strength in its brand to match what they did and hopefully we can get more people celebrating it."
Last year Cornish nationalists started their own campaign urging Cornwall Council to give its staff the day off to mark St Piran's Day.
St Piran's Day 2011 falls on Saturday 5 March.