Cornwall's coastline provided a smugglers' haven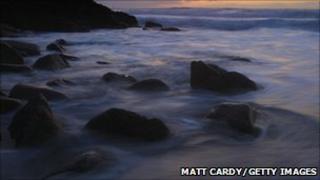 Plans to centralise Customs control ends hundreds of years of battles between excise officers and smugglers in Cornwall.
Under government plans the county's unit which tackles drug smuggling and illegal working will move to Gatwick Airport.
The famous Custom House in Falmouth will close in 2012.
In the past, Cornwall was a centre for smuggling of illegal contraband such as brandy and gin.
Smuggling reached its peak in the county during the 18th Century.
Today the Isles of Scilly is a peaceful haven attracting holidaymakers from all over the world.
At one time, the islands were totally reliant on the smuggling trade. The only legal business was fishing - and at best that was seasonal.
The excise authorities of the time had their unpopular work cut out.
Mousehole is one of many west Cornwall villages steeped in smuggling history.
Cheeky smugglers carried the contraband around the village during the day.
On one occasion, the excise officer - or preventive, as they were known - was asked why he had not taken action against the illegal activity.
The hapless officer replied saying he had been pelted with stones, and was lying in his bed recovering.
'King of Prussia'
The most notorious Cornish smuggler was John Carter from Prussia Cove. He was nicknamed the King of Prussia.
Using small inlets in west Cornwall, Carter ran a successful smuggling ring for several years during the late 1700s.
The Prussia Cove smuggler had a reputation for "honest dealing".
Once he broke into the Penzance Custom House to recover his seized contraband - the excise men at the time said he only took what he believed to be his property.
Shipwreck legend
The coast of Cornwall has always been notorious for shipwrecks. Locals in the past were quick to ransack a ship that smashed onto the rocks.
Custom House officers would rush to the scene to try to seize the dutiable goods that had washed up on the beach.
This was often unsuccessful as the hungry villagers outnumbered the officers.
The word "wrecking" is now part of Cornish folklore. There were legends that some ships were deliberately lured into danger by a display of false lights.
Smugglers faced a grizzly end if they were caught.
St Mawes, near Truro, was the 17th Century base for Robert Long. After Long's execution his body was hung in chains on the village's road.
But any hopes from the excise officers that this was curb the Cornish smugglers were fruitless.
At its peak, an estimated 500,000 gallons of French brandy per year were smuggled into Cornish coves.
Today Cornwall still thrives on its smuggling past - but it is done through tourism, with many restaurants and pubs choosing names that pay homage to the smugglers of the past.