Newquay Burger King gives £3,000 for mural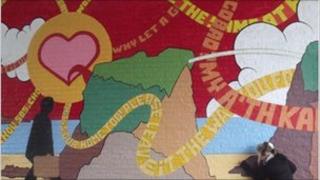 Burger King has given £3,000 to recreate a mural in Newquay after another next to its outlet was painted over.
Burger King said the mural on its wall "had to be repainted" after a request from the landlord of the building.
The youth organisation behind the mural, My A'th Kar Newquay, which means "I Love You Newquay" in Cornish, was saddened by the incident in February.
Burger King said it "strongly supported" My A'th Kar Newquay.
My A'th Kar Newquay is discussing sites for the new mural with Newquay Town Council.
'Sense of identity'
The mural was painted on the wall of the Burger King restaurant in Cliff Road, Newquay, in November 2010 by members of My A'th Kar Newquay, a voluntary youth project.
My A'th Kar Newquay's aim is to transform local eyesores and encourage locals and visitors to treat Newquay with respect and to behave appropriately.
Jourdan Brewer, 15, said, "We all worked incredibly hard to create the first mural so are really glad that the work will be reinstated.
"It's a real shame that the first one had to go but we're always trying to be positive."
Paul Golder, finance director of Burger King, said: "We were disappointed that the original mural was not able to stay but we strongly support local initiatives such as My A'th Kar Newquay who are working hard to bring a positive sense of identity and pride to so many people in Newquay.
"We look forward to seeing the mural again in Newquay soon."