Josie and the Lovecats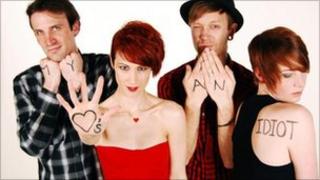 Josie and the Lovecats is one of the brightest bands to emerge in the Cornish music scene in recent times.
The band has recently unleashed a wave of irregular yet blissful tunes across the county.
In their own words the group's sound is formed by Josie's searingly melodious vocals and angular piano, backed by George's thumping breaks on the drum kit and Helen's intricately woven cello lines, creating a soundworld in which they alone roam.
The band's interesting and eclectic sound may stem from their many influences which range from The Velvet Underground, Neil Young, and Radiohead to Bjork, The Cure, and Patrick Wolf.
In addition to their musical ties, band members Jo and George are brother and sister.
As well as this, Helen and Jo went to school together and are old friends, all of these factors help to keep the musical unit extra tight.
Speaking about the difficulties of writing material, Jo said: "It's a really personal thing, when you write a song, and perform it in front of a room of people you don't know. If you're writing from a personal place, you're incredibly exposed.
"I write the bones of a song and then George and Helen input quite a lot of how it sounds in the end."
Reflecting on her interesting role as cellist in the band, Helen commented:
"It's quite tricky to play what-register-when. We're trying to make a full sound without a bass and that's our biggest challenge, we're experimenting with pedals and that's what makes our sound pretty unusual."
Listening to the Lovecats material there is a definite sound of fairytale melody, often tainted with a touch of the macabre.
Some songs seem to float though blissfully, whilst tracks like "Spider" pack a decent punch without the use of a single guitar or bass note.
Forthcoming gigs for the trio include:
Saturday 5 March 2011: Miss Peapods in Penryn
Friday 15 April: Timepiece in Exeter
Saturday 16 April: James Street Vaults at Plymouth University.
To hear music, visit Josie and the Lovecats